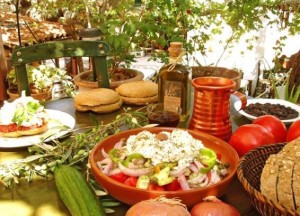 For hundreds of years Cretan edible products and their combinations, are the most healthy and rich flavors of the Mediterranean area! There is also no coincidence that Cretans have good health, especialy in the past years since they used Cretan diet daily! Pure olive oil, cretan herbs, milk and cheese, greens, pulses, pasta, snails, honey, vegetables and fruits, are a few of the many foods that the Cretan nature have given to us!
Nutrition has an important role tο the socialization of Cretans! The Cretan table is a reference point, is rich in nutritional values ​​and has a wide variety of flavors! All the important moments of the Cretans are accompanied by food! At weddings, engagements, at parties, meetings with friends and even at funerals, dining is a must!
Exclusive use of olive oil, vegetables and fruits are the top in this pyramid wich is called "Cretan diet", and differs considerably from the Mediterranean diet! In Traditional Cretan Village – Arolithos, we use the purest materials for our cuisine and the result will surely satisfy you! Come and taste our restaurant's traditional recipes, cooked with care by our experienced chef 🙂 Cretan dairy, pies with myzithra cretan cheese, great fresh salads, fried snails with rosemary, lamb ofto (roast) is only a few of the flavors you can choose!
Below is a Cretan recipe from the book "Cretan Traditional Cuisine" by Maria and Nikos Psilakis. Here in Arolithos you can taste it!
Goat stew with pasta for weddings
Materials:
1 pound goat or sheep
1 / 2 pound macaroni No. 6
Salt
200g grated anthotyro cretan cheese
Wash meat, cut into portions, place in saucepan and cover it with water to which you should add salt. Boil at low temperature in the beginning, just to remove the foam from the meat. Increase the temperature and cook until the meat is tender.
Retract the meat and strain the broth. We add water to have a total of 6 cups of broth. Put the saucepan in the stove and after boiling, add pasta and salt and cook for 10 minutes. Serve after 5 minutes passed and sprinkle with grated anthutyros cretan cheese!
Yummy! Good appetite!