Gemista are vegetables usually tomatoes, bell peppers, zucchini and eggplant filled with rice (sometimes with ground meat) and baked in the oven!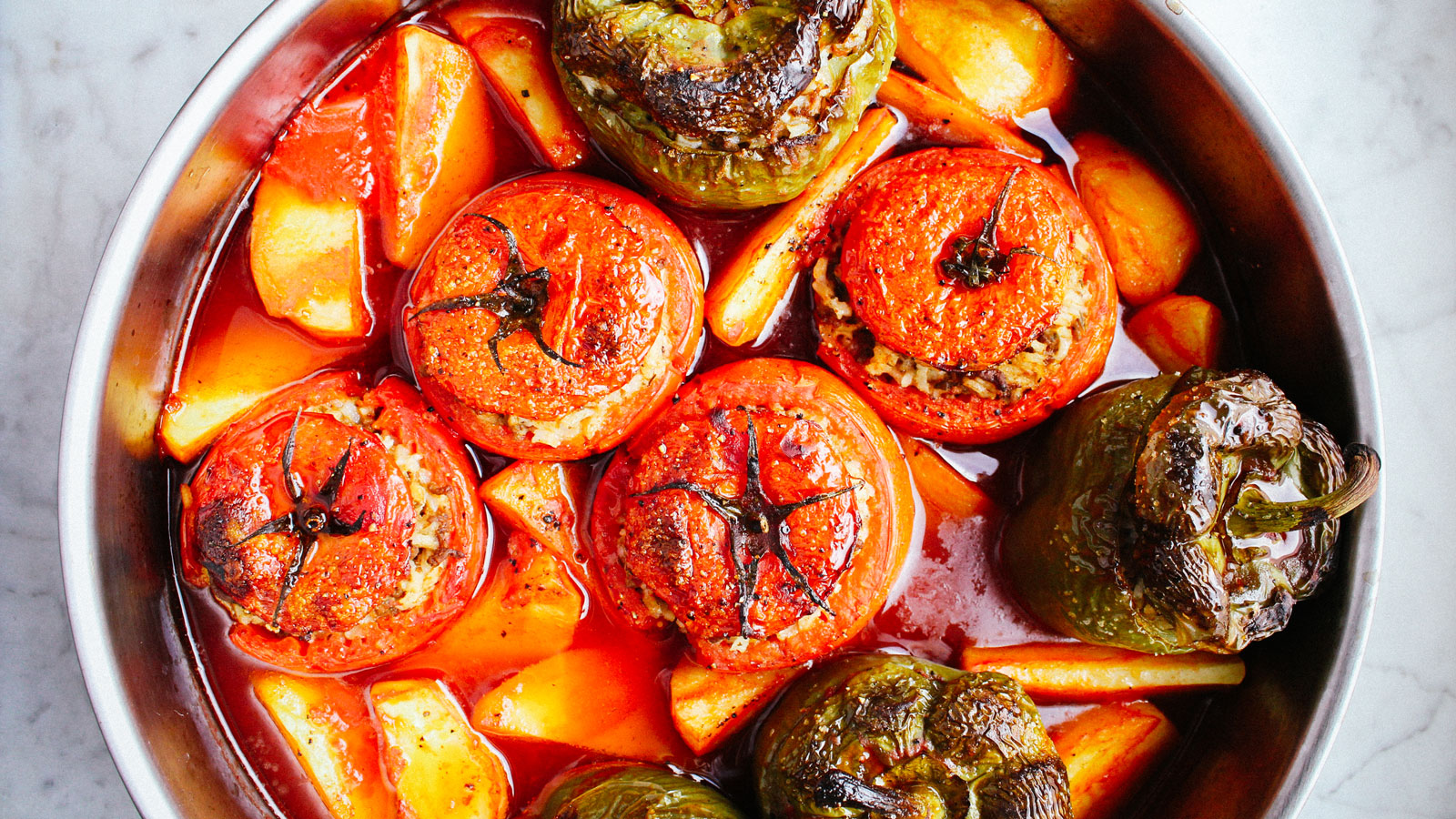 Gemista
To make this easy recipe for gemista, pick your favorite vegetables and follow the instruction bellow!
Ingredients: (for five persons)
7 tomatoes (600g)
3 red peppers horn shaped (200g)
1 eggplant (200g)
1 potato (200g)
1 onion (160g)
Rice (250g)
Extra virgin olive oil (250-300mL)
Dill (100g)
Parsley (100g)
Salt 1 table spoon
Black pepper ½ tea spoon
Oregano ½ table spoon
Water ½ glass
Cooking time: 45 min – 60 min.
Temperature: 200 Celsius
Preparation:
Wash carefully all veggies. Cut off their top not very deep but neither too shallow, just enough to remain and to use later as cap.Keep the tops.
With a spoon or another kitchen tool remove the flesh from the vegetables (tomatoes, eggplant, and red peppers) , not the potato. Keep the flesh of tomato.
Dispose that of eggplant and peppers. Be careful to leave enough flesh and skin for a firm and stable shell to be filled with rice. Wash your rice and add it in a bowl.
Chop the removed tomato flesh in small pieces and add them to the bowl. Optionally you can chop a medium carrot and add it to the mixture, or you can skip that. After adding the chopped tomato, add the salt, the black pepper, parsley, dill, the ¾ of the olive oil, the oregano and chop also the onion and add it. Then mix thoroughly.
Take a medium-large baking pan with walls high enough for the fluids that will be added. Place the empty vegetables in the pan, salt them, and carefully fill them, but not to the top, about a little bit more than the half way. Place the caps then, the potato sliced, and add the water.
At the end, rinse with the remaining olive oil on top the whole pan. Its ready to cook. Preheat the oven and place the food for 45mins to an hour at 200 celsius. For the first 30 mins put aluminium foil and cover the pan. After remove it and leave it for the remaining time uncovered. Take them out and leave it for 10 mins to cool off. Now its ready to serve. Your serving should be accompanied by either Feta cheese or Greek yoghurt.
Bon Appétit!

In our online store, you can find great quality of extra virgin olive oil, maybe one of the most important things on this plate!
Visit www.cretaneshop.gr and for any information contact us: 0030-2810821050 or eshop@arolithos.com