Pinakoti was an accessory (usually wooden and narrow) for traditional bread making process. It usually had many partitions, one for each bread!
How they made bread (many years ago)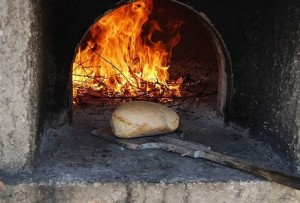 A piece of bread that was stored from last week is made with water and flour, so that it becomes a gritty slurry.
They left it wrapped in a woolen blanket all night. With this piece, in the morning next day the bread is kneaded, and it is covered with the blanket again and left to ascend. Then they were holding a piece to make bread next week. With the rest, they made 3-4 large breads(as well as the pinakoti), which was covered with well-frosted cotton towels.
When the bread was ready, they went to the oven. There was the wood-burning oven, and when the oven was heated, they put the bread with a wooden shovel!
Take a look here, for this special product!